TILL
Fund Summary
The Teucrium Agricultural Strategy No K-1 ETF (TILL) provides investors an easy way to gain long only price exposure to corn, wheat, soybeans, and sugar futures in a brokerage account.
TILL is an actively managed fund seeking long term capital appreciation. The managers select specific futures contracts according to a proprietary model. The fund seeks to own one contract per market, maintaining perpetual, long only exposure to each commodity. Generally, rebalances occur monthly, to maintain an approximate equal weight between holdings.
Looking for a passive strategy? Consider the Teucrium Agricultural Fund (TAGS), which invests in each of our single commodity strategies in equal weight.
TILL: Did You Know?
Corn, wheat, soybeans, and sugar are among the most important agricultural commodities, used throughout the global economy as feed for animals, bio-fuel, starch, sweeteners, and plastic.
Demand for agricultural commodities is rising exponentially due to world population growth and the expansion of the global middle class.
Bio-fuel usage continues to grow and increasingly represents a larger percentage of the global energy mix.
Agricultural commodities have a historically low correlation with U.S. equities making TILL a potentially attractive option for portfolio diversification.
Agricultural in Your Portfolio
Commodities typically behave differently than other asset classes and can help enhance portfolio diversification.
You can segment your commodity exposure (like you do with other asset classes) among various categories such as: Energy, Precious Metals, Agriculture, Industrial Metals, etc.
TILL may be held as a core component of your overall exposure to agriculture.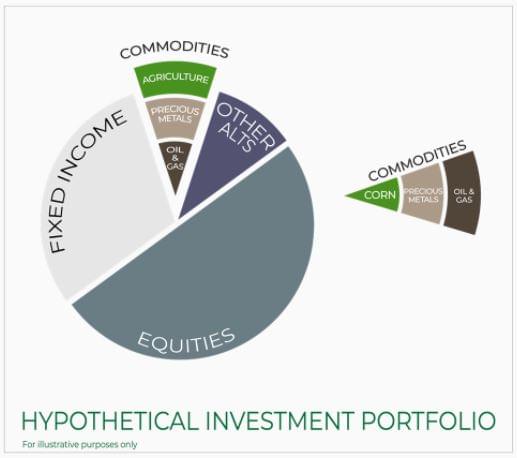 View TILL Holdings
TAGS Or TILL?
Fund Facts
Ticker
TILL
CUSIP
53656F144
Inception
05/16/2022
Exchange
NYSE Arca
IIV
TILL-IV
Management Fee
1.49%
Acquired Fund Fees
0.14%
Expense Waiver
(0.60)%
Total Net Expenses
1.03%
Options Available
Yes
Distributions
Annually
Administrator
U.S. Bank Global Fund Services
Distributor
Foreside Fund Services, LLC.
The Adviser has contractually agreed to waive 0.60% of its management fees, through August 31, 2024.
Daily Facts as of
TBD

*

*subject to change
| | |
| --- | --- |
| NAV | TBD |
| Market Price | TBD |
| Prem / Discount | TBD |
| 30-day Median Bid/Ask Spread | TBD |
| Shares Outstanding | TBD |
| Total Net Assets | TBD |
Subscribe to our Newsletter!
Subscribe to receive our newsletter and timely updates. Teucrium typically sends two newsletters per month.
TILL Documents